以下英文評語是其他國家的旅客所發表的
Beautiful setting in tropical gardens. Immaculate surroundings, an oasis of peace an calm.
Expedia 真實旅客評語
We will be back!
Very relaxing winter sun week in Funchal. Delicious breakfasts, friendly service, beautiful gardens. Fine dining in the Dining Room, more relaxed options in the bar. Easy walk down into the city. Free parking, easy access from/to airport and for exploring the island.
Hotels.com 真實旅客評語
Perfect great hotel, gardens. food . service and rooms
Expedia 真實旅客評語
Holiday Tranquility
This small (less than 50 beds) hotel successfully provides luxury accommodation in a wonderful and extensive garden setting, particularly lovely in springtime, and within walking distance of the centre of Funcal
Hotels.com 真實旅客評語
Gardens are remarkable. Excellent cuisine. Beautiful buildings Well situated Professional staff
Expedia 真實旅客評語
The hotel is located in its own exquisite botanical gardens. Every room (only 40 or so) has its own terrace overlooking the gardens, with glimpses of the sea in the background. The overall atmosphere is tranquil and service is excellent.
Expedia 真實旅客評語
It's likely that this is one of the best hotels we've ever been in. Why aren't more hotels like this?
Expedia 真實旅客評語
The effect way to relax. Friendly, attentive staff and beautiful surroundings.
Expedia 真實旅客評語
OASIS
Its a little oasis in a delightful city.
Hotels.com 真實旅客評語
I cannot praise this boutique hotel highly enough. The cuisine, service and location were outstanding and we are returning next year.
Expedia 真實旅客評語
Fantastic hotel! Very helpful staff, great room, great food, great location, beautiful garden, great architecture. Will definitely come back.
Expedia 真實旅客評語
Nice hotel in wonderful garden. good range of restaurants near-by and on site.
Expedia 真實旅客評語
We enjoyed our stay in the lovely botanical garden setting of the hotel. All staff had a welcoming attitude.
Expedia 真實旅客評語
A truly great hotel
My wife and I chose this hotel to celebrate our wedding anniversary, having found good reviews online, and we can happily say it met expectations and more. The grounds are stunning - to stay centrally in a city and yet be surrounded by the plethora of plants and trees found in their botanical garden estate is amazing. You can stay in any room, and your views will be of nature, making for a peaceful stay. The reception staff on arrival were polite, enthusiastic, and very helpful. Our whole stay was thoroughly memorable. Notably, the breakfast is top quality, and the spa definitely worth spending some time in. It is one of the few hotels we will readily look to return to.
Hotels.com 真實旅客評語
Peaceful, beautiful hotel. Our 4th visit and we will return.
Expedia 真實旅客評語
Beautiful and restful hotel
This is a charming, peaceful and beautifully designed hotel. The staff are very helpful, the food is excellent and the facilities very good. The secluded pool is a treat - a good size and refreshing after a hot day. There is also a plunge pool at the front of the Mansion house. The modern design of the rooms works very well - lots of the rooms catch great sunshine and it is easy to just sit on the terrace or balcony of your room and soak it up. The hotel is about 25mins walk from the centre of Funchal - easy walk down to the city, more strenuous up hill, but there are buses and taxis if you find that a bit too much. The hotel helped arrange a dolphin watching trip. We also had treatments in the spa which were excellent.
Expedia 真實旅客評語
Top quality hotel with very friendly staff
First visit to Madeira and chose this hotel based on previous reviews. Found the hotel to be excellent in all respects. Located in beautiful gardens/grounds, with two swimming pools and various food options, it is only a short walk downhill to the Lido area, full of local restaurants and bars. All staff from gardeners to waiters and reception staff were very friendly and approachable. I could not find any fault whatsoever with this hotel. Would certainly stay at this hotel again on our next visit to Madeira.
Expedia 真實旅客評語
Super location and setting
The grounds are fabulous and set in a tranquil place but still convenient for the town centre. Staff were so friendly and helpful and made our stay perfect. Highly recommended
Expedia 真實旅客評語
Fantastic hotel
This was our third visit to Casa Branca and our stay was as good as before. This is a gem of an hotel in a most beautiful seting and with suberb service. All the staff are amazing and cannot do enough for you. Special mention to Marilia, Carolina and Gorete. Breakfast is amazing with all you could want on the cold buffet plus hot food cooked to order. Great restaurants within walking distamce and bus stop outside for trips into Funchal. Adult only pool is a haven for relaxation or sit outside your own room on sunbeds and enjoy the gardens. Very highly recommended and we are already looking forward to our next visit.
Hotels.com 真實旅客評語
a quiet spot in Funchal
A beautiful and quiet setting in Funchal. The staff, service, gardens and cuisine were beyond are expectations. We will definitely return!
Hotels.com 真實旅客評語
lovely hotel
Lovely hotel nice and quiet with beautiful gardens and excellent staff
Expedia 真實旅客評語
Brilliant hotel and lovely gardens. Staff very friendly, efficient and obliging.
Expedia 真實旅客評語
Great hotel and location
Great location in a park, yet convenient access to all Funchal attractions. Great service. Very good breakfast. It is a smaller hotel but with 5-star hotel conveniences like robe & slippers in the room, two swimming pools (sizes proportional to a smaller hotel), sauna & massages. A good restaurant menu for the evening dinner. However, if you are planning to stay within the hotel property for all your vacation perhaps there are better choices in Funchal that offer several restaurants and entertainment.
Hotels.com 真實旅客評語
Beautiful Hotel
A distinctive, quality hotel with beautiful gardens. The staff are very professional and friendly without being over the top. Food is excellent. A perfect place for couples to enjoy a relaxing, comfortable holiday. The swimming pool, gym and all public areas are well maintained.
Expedia 真實旅客評語
Wonderful location
Beautiful gardens and pools, delightful views and utterly relaxing. It is out of town and up 2 steep hills, fine if you're fit but we used the buses and these were excellent. Ate one dinner there and that was delicious. Staff very friendly and helpful.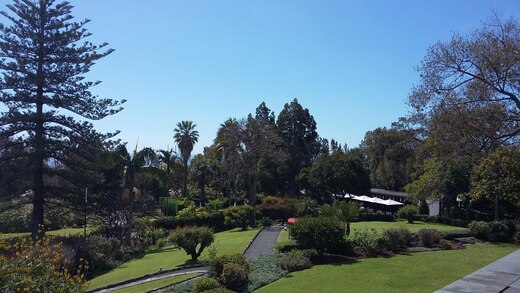 Expedia 真實旅客評語
Very nice hotel set in beautiful peaceful gardens.
Very pleasant, helpful staff. Comfortable , clean room. Short bus ride from the centre of Funchal yet plenty of good restaurants within an easy walk of the hotel. An oasis of calm.
Expedia 真實旅客評語
Beautiful quiet hotel.
Truly beautiful place. Food is out of this world. Staff are so helpful and I wish I could have stayed for much longer as I felt so at home and happy here.
Expedia 真實旅客評語
All round excellence and comfort
Staff could not have been more pleasant and helpful , room, gardens and breakfasts exceeded expectations. Wilteturn
Expedia 真實旅客評語
Peace in a busy city
Hotel set in beautiful, constantly tended tranquil gardens. Staff very welcoming and courteous. Room was comfortable and veranda with sun loungers was nicely screened with bushes. The only thing that would have made it better would have been an indoor pool. In November the water was a bit chilly!
Expedia 真實旅客評語
Peaceful Paradise
A oasis of exotic plants and fauna within gardens wonderfully maintained to compliment the grand Manor House and bespoke Hotel. The care and attention to service is exemplary resulting in the most enjoyable and relaxing holiday.
Expedia 真實旅客評語
Relaxing getaway
A week in a beautiful tropical garden with great food and amenities.
Expedia 真實旅客評語
Fantastic Hotel
This is probably the best hotel we have ever stayed in. Beautiful surroundings- a little oasis close to the town. Wonderful facilities and staff - a great experience.
Expedia 真實旅客評語
Fabulous hotel in superb gardens.
This is one of the best hotels I have ever stayed in and I am an experienced traveller. It is an oasis of calm and the gardens are full of the most exotic and beautiful flowers and plants. The staff are efficient, polite and friendly and the food excellent. I am planning to return again next year!
Expedia 真實旅客評語
Top Choice
Beautiful gardens, great service, excellent pool. Only a couple of negatives: limited pool hours, difficult access to fitness area, less than central location. Madeira wonderful vacation site.
Hotels.com 真實旅客評語
It's beautiful. There's not a huge amount to do in the area but l loved visiting Monte.
Hotels.com 真實旅客評語
以下評語皆為其他國家的旅客所發表的
Wunderbare Oase in Funchal
Bereits zum vierten Mal genossen wir einen wunderbaren Aufenthalt in dieser Oase, mit herrlichem Garten, mitten in Funchal. Immer gerne wieder!
Hotels.com 真實旅客評語
Lage, Stil der Anlage (Gebäude & Garten) und Frühstück (Umfang, Qualität, Location)
Ebookers 真實旅客評語
Skønt hotel i dejlig have
Super gotel med rigtig god beliggenhed.
Hotels.com 真實旅客評語
A wonderful place
Hotels.com 真實旅客評語
Fantastiskt fin trädgård! Underbar personal. Bra frukost!
Hotels.com 真實旅客評語
Im grossen Park Botanik aus der ganzen Welt, wunderschön. Einrichtung etwas in die Jahre gekommen. Niveau der Gäste in den letzten 6 Jahren auffällig gesunken. Ich weiss, ein weltweites Problem
Ebookers 真實旅客評語
Уединение и Релакс
Прекрасный отель с великолепным садом и очень красивой территорией. Хорошие завтраки и великолепное обслуживание. Номер просторный и комфортный, спасибо за кофе машину и чайник в номере, а также живые цветы и фрукты. Получили удовольствие от отдыха. Рекомендуем!
Hotels.com 真實旅客評語
Des supers vacances en famille
Hotel magnifique, avec deux belles piscines. On a l'impression de séjourner au milieu d'un parc botanique tellement les jardins sont beaux. Personnel impeccable et adorable avec notre enfant de 11 mois.
Hotels.com 真實旅客評語
Bel établissement bien situé au calme
Bel établissement idéalement situé un peu à l'ecart Du centre
Hotels.com 真實旅客評語
使いやすく、とても綺麗で良かった。
Expedia 真實旅客評語
Normale Zimmer 20 Jahre alt incl Bäder. sehr schöner Garten sehr gepflegt, sehr nettes Service Personal. ABER Abreise morg. 7.30 kein Frühstück verfügbar nur am abend vorher wurden O Saft Croiassants und Obst aufs Zimmer gestellt , es sei ja Löskaffe und Wasserkocher vorhanden. Frischer Expresso nicht Wer mit 5 Sternen wirbt muß mehr leisten !! Tolles Restaurant im Manorhouse aber auch saftige Preise.
Expedia 真實旅客評語
Wunderschöne Anlage und sehr freundliches Personal.
Ebookers 真實旅客評語
Funchal
En fantastisk oas i Funchal. Trädgården en sevärdhet i sig själv. Lugnet bara inträder när man kliver in på området.
Hotels.com 真實旅客評語
bel établissement, jardin tropical splendide, personnel attentionné et aimable très calme, petit déjeuner copieux et varié le seul bémol:pas assez de table sur la terrasse pour le petit déjeuner
VSC 真實旅客評語
Superfint ställe med otroligt bra service, vi hade en 3åring med oss och var dom ändå med barn men kände oss väldigt välkomna. Trädgården var fantastisk!
Hotels.com 真實旅客評語
本網站所刊登的評語和評分皆為旅客及飯店方面的主觀意見,並不代表或反映 Hotels.com 的立場。如因相關評語而造成任何形式的損害,Hotels.com 及提供評語內容的相關各方皆無需承擔責任。